Last week I talked about the core assumptions of Transactional Analysis, the principles that underlie the theory.
In this week's post I'm going to introduce on of the fundamental theories in TA, ego states.
What is an ego state?
An ego state is a consistent way of thinking, feeling and behaving. According to Eric Berne there are three different ones:
Parent ego state
Thoughts, feelings and behaviours that you have copied from your parents.
Adult ego state
Thoughts, feelings and behaviours that are a direct response to the here and now.
Child ego state
Thoughts, feelings and behaviours that you are replaying from your childhood.
As Transactional Analysis loves diagrams we diagram ego states like this: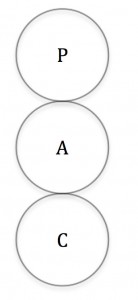 To make it clear that we are talking about an ego state and not a real parent, adult or child we capitalise, hence Parent, Adult, Child.
Pragmatic Truth
Ego state theory is both beautifully simple and can be horrendously complicated. In the Transactional Analysis community there are differing opinions about ego states and what happens in each.
The way I see it comes back to pragmatic truth. Pragmatic truth is an Acceptance and Commitment Therapy (ACT) concept. Pragmatic truth moves away from true and false and takes the approach of;
"If it's useful hang on to it. If it's not useful let it go."
I happen to believe that ego state theory is a very useful piece of the jigsaw in understanding what makes us human's tick.
How can you use ego state theory to understand yourself better?
That's the point of all of this right? What you want to do is understand why you do the things you do. By understanding yourself better you might be able to do things in a more constructive way, moving you towards a richer, more fulfilling life.
So, let's look at ego state theory in a little more depth.
Two models of ego state theory.
Not content with coming up with this whole theory of ego states, Berne decided to split ego states into two different models.
This has confused the hell out of beginning Transactional Analyst trainees for decades (including me). Really though, it's pretty straight forward:
The Structural ego state model.
The structural ego state model is a model of transference. It's a way of understanding what's going on inside us.
Ever had internal experiences towards someone in the here and now that are echoes from the past?
For example you may react to your boss as if she was your mum. You have similar internal experiences to when you were a child and your mum was telling you what to do.
The boss however is not your mum. What you're experiencing is transference. You are transferring historical feelings from the past about one person onto another totally different person in the here and now.
It's a bit like you projecting an image of your mum onto your boss and having old feelings as a consequence.  You are missing your boss.  Who she is in the here and now.
The structural ego state model helps us map this. It gives us a language to describe what's going on. Awareness creates the possibility of change.
The Functional ego state model
Functions are about doing. The functional ego state model allows us to map behaviour.
If you are behaving in a similar way to your Dad did in a certain situation you could spot this and say that you are in your Parent ego state.
This might be a good thing or a bad thing depending on what you are doing and whether it is benefiting your life long term.
Once you can spot the behaviour then you have the choice of changing it.